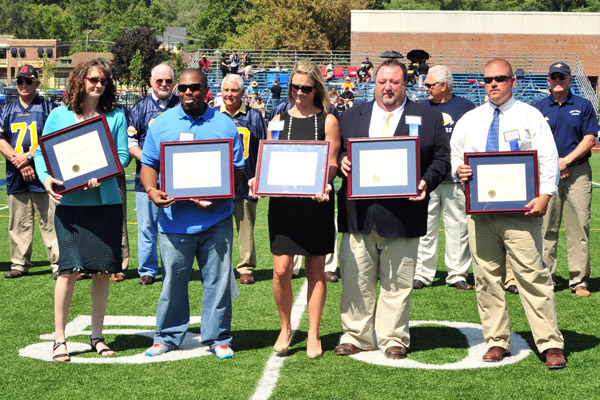 Emory & Henry Inducts Five In 2013 Hall of Fame Class
The Emory & Henry College Alumni Association and the Department of Athletics are proud to announce the 2013 induction class of the Emory & Henry Sports Hall of Fame. The accomplishments of these five individuals during their time as student-athletes at E&H make them worthy of the College's highest athletic honor.
In a ceremony on Saturday, September 7 in Van Dyke Cafeteria, three members of the football team, a women's basketball player and the first-ever softball player were formally inducted into the sports hall of fame, marking the 36th induction since the Hall of Fame was founded in 1971.
Jason Grooms (Football, Class of 1993), Kelly Smith Houseright (Women's Basketball, Class of 2002), Mandy Smith Miller (Softball, Class of 2003), Charles "PeeDee" Peterson (Football, Class of 2000) and Darren Reed (Football, Class of 1995) were chosen by the Hall of Fame Selection Committee at its biennial meeting in July.
Grooms a native of Newport, Tenn., was a four-year letterwinner for the Wasps from 1988-91 as a defensive tackle. He was a two-time All-Old Dominion Athletic Conference selection and was named VaSID First Team All-State as a senior in 1991. His crowning achievement was receiving AFCA All-America honors his senior season. Grooms was part of two ODAC Championship teams (1988 and 1990) and accumulated 16.5 sacks for his career.
Houseright grew up in Rye Cove, Va., and came to E&H as a guard on Coach Joy Scruggs' basketball team. She was selected as ODAC Player of the Year and VaSID State Player of the Year as a junior. She was a three-time All-ODAC First-Teamer and is still the holder of 15 different school records. Houseright scored a record 1651 points during her career, including 508 as a junior, which is also a record. She also holds the top mark for scoring in a game (36 points vs. Bridgewater Feb. 3, 2001).
Miller was the first E&H softball player to be named All-America by the NFCA. She was also a First-Team All-ODAC and All-Atlantic Region choice in 2003 as she led the Wasps to their only ODAC Championship and berth in the NCAA Tournament. Miller batted .409 for her career and hit a school-record .486 as a senior. She still holds a total of five Emory & Henry records including triples in a career (16), season (seven) and a game (three). Miller drove in 111 runs and stole 41 bases in her four years as a Wasp.
Peterson established himself early in his career as one of the best defensive backs in the ODAC and has the resume to prove it. He still ranks in the top 10 in the league record books for career interceptions (16) as he helped lead the Wasps to three-straight conference championships (1996, 1997, 1998). Peterson was a two-time All-ODAC and All-State selection and was named First-Team All-America by the AFCA and D3football.com as a defensive back and was second team as a return specialist.
Reed, who grew up Gate City, Va., led Emory & Henry in tackles for three years from his spot at linebacker. He was a three-time All-ODAC First-Team selection (1991, 1993, 1994) and was a part of the Wasps' squad which made it to the NCAA Division III Quarterfinals in 1992. Reed was an All-State and Honorable Mention All-America selection as a senior and earned All-ODAC honors in 1991, 1993 and 1994.