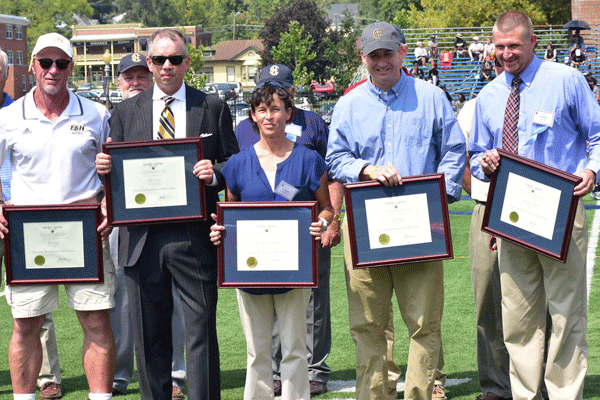 Emory & Henry Inducts Six In 2015 Hall of Fame Class
The Emory & Henry College Alumni Association and the Department of Athletics are proud to announce the 2015 induction class of the Emory & Henry Sports Hall of Fame. The accomplishments of these six individuals during their time as student-athletes at E&H make them worthy of the College's highest athletic honor.
In a ceremony on Saturday, September 5 in John Rutledge King Center, two members of the football team, a men's basketball player, a women's basketball player, a softball player and a successful college basketball coach were formally inducted into the sports hall of fame, marking the 37th induction since the Hall of Fame was founded in 1971.
Justin Call (Men's Basketball, Class of 2004), Sarah Cordill Horton (Softball, Class of 2005), Jon Lakey (Football, Class of 1989), Angie "Flea" Simpkins (Women's Basketball, Class of 1989), Mike Snow (Football, Class of 1978) and Mike Young (Special Achievement, Class of 1986) were chosen by the Hall of Fame Selection Committee at its biennial meeting in June.
Call, a native of Elkin, North Carolina, was a three-year All-ODAC guard for the Wasps from 2001-04. He was named the 2004 ODAC Player of the Year and Scholar-Athlete of the Year. Also in 2004, Call was honored as the Virginia State Player of the Year and NCAA Division III South Region Player of the Year and earned First-Team All-America accolades from the National Association of Basketball Coaches. Call was E&H's first two-time Academic All-American and claimed the Jostens Trophy as National Player of the Year in 2004. He finished his career with 1,732 points, placing him fifth on the all-time scoring list for E&H.
Horton grew up in Tazewell County, Virginia and was a four-time all-region player at shortstop for Emory & Henry from 2001-04. During her career, the Wasps won 106 games and captured the 2003 ODAC Championship. The team earned a bid to the NCAA Division III Softball Tournament, the first and only time that an Emory & Henry women's team has qualified for national postseason competition. She still holds 16 Emory & Henry records 10 of which are career records. During her time wearing blue and gold, Horton batted for a .455 average and racked up 235 hits including 61 doubles and added 133 RBI and 138 runs scored.
Lakey, a native of Alexandria, Virginia, helped lead the Wasps to a pair of ODAC Championships and two trips to the NCAA Division III Playoffs from his wide receiver position. A three-year starter, he led the Wasps for two years in receiving and was selected to the All-ODAC First Team in 1988. In 1987, Emory & Henry won the South Region Championship and a berth in the Division III Semifinals. For his career, Lakey caught 101 passes for 1,493 yards and 16 touchdowns, averaging 14.7 yards per reception.
Simpkins grew up in Christiansburg, Virginia and was a four-year letterwinner at guard for Emory & Henry. She was the sixth person in Wasp Women's Basketball history to eclipse the 1,000-point mark with 1,172 points. Simpkins was named to the 1997 All-ODAC First Team and earned Second-Team All-State honors. She currently holds five Emory & Henry records for career and season marks in assists and steals. Simpkins accomplished her greatest single feat on February 10, 1998 against Lynchburg, scoring 14 points, 11 rebounds and 12 assists for the program's first and only triple double.
Snow, a native of Chilhowie, Virginia, transferred to E&H after spending his freshman year at the University of Virginia. In his three seasons as a Wasp, Snow caught 78 passes for 1,106 yards and seven touchdowns for an average of 14.2 yards per catch. He was honored as a senior as the team's Offensive Player of the Year and an All-ODAC First-Team pick. After retiring from a successful career in the shipping industry, Snow returned to Southwest Virginia and has been an assistant coach for Emory & Henry. In 2012 he was named the Dave Thomas 12th Man of the Year for his contributions to the football team.
Young grew up in Radford, Virginia and attended Emory & Henry, playing four years of basketball for legendary coach Bob Johnson. After his graduation, Young became an assistant coach on Johnson's staff and two years later served as an assistant at Radford under Oliver Purnell. In 1989, Young joined the staff at Wofford College as an assistant to Richard Johnson. After 13 years as an assistant, Young took over the head coaching reins in 2002, and has since led the Terriers to four Southern Conference Tournament titles and four trips to the NCAA Tournament in the past six years, earning three SoCon Coach of the Year awards. His teams have won 180 games but most remarkably have graduated 100 percent of the seniors who have completed their eligibility at Wofford.