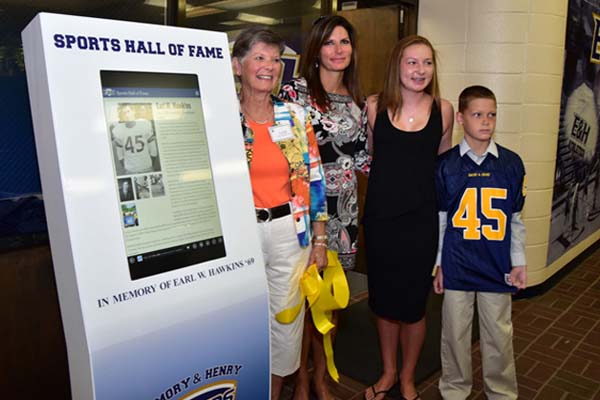 Emory & Henry Unveils Sports Hall Of Fame Digital Display
On Saturday, September 5, the Emory & Henry College Department of Athletics unveiled a brand new kiosk and digital Sports Hall of Fame website to commemorate each E&H Hall of Famer.
The kiosk and website were revealed following the induction of the six-member Hall of Fame Class, which brought the total number of inductees to 243. The project was made possible thanks to the generosity of Lynda Hawkins, '66, who made the lead donation in memory of her late husband, E&H great, Earl Hawkins, '69. Earl Hawkins' name is prominently located underneath the touchscreen of the kiosk.
The Department of Athletics would also like to express its sincerest gratitude to the 47 other donors who also contributed to the extensive project.
Completing this project was a nine-month process that included extensive research for pictures, statistics, and accomplishments for each of the inductees. The fruition of this research is accessible on the new touchscreen kiosk that is located in the lobby of the John Rutledge King Center.
All of the information is also available worldwide by navigating to the new Sports Hall of Fame website which can be accessed from the Emory & Henry athletics website.  Go to www.gowasps.com and click on the Sports Hall of Fame tab.  Contained in the kiosk and on the website is information on each of the inductees, stories pertaining to the hall of fame, a list of donors who contributed to the project, and a brief  history of E&H athletics.
There is also a "Contact Us" page where Hall of Fame members and their families can contact the Department of Athletics with additions and enhancements for their pages.