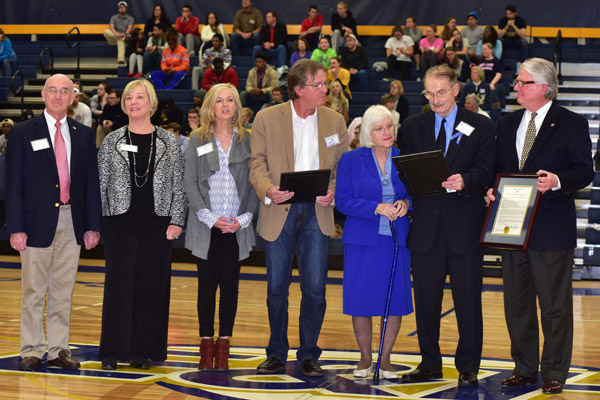 Emory & Henry Celebrates Glenn Roberts Day
The Emory & Henry College Department of Athletics held a special event on Saturday, February 6 to honor one of the greatest student-athletes to ever don the blue and gold. The College's Board of Trustees decreed the day as Glenn Roberts Day many of the basketball star's family and friends in attendance. A bronze plaque was unveiled in the lobby of the John Rutledge King Center to honor Roberts' accomplishments on the hardwood.
Glenn Roberts, a native of Southwest Virginia, was one of basketball's great innovators. While playing with his brothers on an outdoor court in the 1920's, he began to jump before shooting the ball, a practice unheard of at the time. He brought his "jump shot" to Emory & Henry in 1931 and heads immediately began to turn. While there are claims of other players using the jump shot at around the same time, it is certain that Roberts popularized the technique and transformed the sport through his prolific scoring.
A 1935 E&H graduate, Roberts scored 2,013 points in 104 games, an average of 19.4 points at a time when team scores averaged around 30 points. The first collegiate player to score more than 2,000 points in his career, Roberts was named an All-American by the Helms Foundation his senior year alongside four players from major college basketball programs.
Roberts' accomplishments on the hardwood twice landed him in an edition of the Ripley's Believe It or Not cartoon. One of his appearances in Ripley's was the first published drawing of Charles M. Schultz, who later gained international fame as the creator and cartoonist of the comic strip Peanuts.
A charter member of the Emory & Henry Sports Hall of Fame in 1972, Roberts was also inducted to the Virginia Sports Hall of Fame in 1980. A page devoted to Roberts on the Naismith Basketball Hall of Fame website is entitled "The Genesis of the Jump Shot."