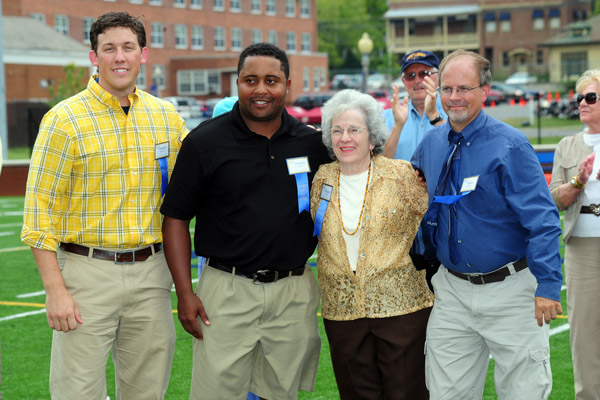 Five Inducted Into 2011 E&H Sports Hall of Fame Class
Emory & Henry College has inducted four new members into its Sports Hall of Fame. The class of 2011 consists of Brandon Matheny, re-'00, Nathan Graybeal, re-'82; Thomas Nelson, '97; and Dr. Margaret Hutson. The new members were inducted in a ceremony on Saturday, Sept. 3 and were also recognized at halftime of the Wasps' first home football game.
Brandon Matheny, re-2000
Brandon Matheny was a four-year letterwinner as a member of the Emory & Henry baseball team (1997-00).  He was an All-Old Dominion Athletic Conference selection in 1998 and led NCAA Division III in strikeouts in both 1998 and 2000. Matheny finished his career as a Wasp with 340 strikeouts, good for a school and ODAC record, and placing him at fourth in Division III. As a senior, Matheny led the ODAC in ERA (1.41), strikeouts (97), opponent batting average (.150), strikeouts per nine innings (13.7) and runners picked off (six).
Matheny was selected by the Cleveland Indians in the 17th round of the 2000 Major League Baseball Draft. In four seasons of minor league baseball, Matheny recorded an 18-14 record with 214 strikeouts. He advanced to AAA Buffalo as a member of the Indians organization. He is currently a sales and merchandising director for Omega Sports.
Nathan Graybeal, re-1982
Nathan Graybeal served Emory & Henry as its Sports Information Director for 19 years. He won many awards for his work on E&H sports publications and web design, including four national top honors, three Butkus awards and three ISA Internet awards. Graybeal has had five football game-day publications rank among the top in the country including one top award for football program cover design. In 2011 he won an award from the National Football Foundation.
Graybeal's service to Emory & Henry spans five decades, beginning with his work as a ballboy and batboy as a youth for the Wasps. He transitioned into the role that would become a career for him, eventually becoming one of the most knowledged people about the history of Emory & Henry athletics. He had a keen eye for statistics and is to be credited with keeping many of the first statistics ever for the College.
Thomas Nelson, 1997
Thomas Nelson was a four-year letterwinner on the gridiron for E&H, playing from 1993-96. He was known for his versatility, playing defensive back, defensive line, fullback and linebacker at some point during his career. Nelson hung his laurels on his ability as a defensive back and holds the Emory & Henry record for interceptions in a career with 16. He is still listed at third in the ODAC record book with nine picks in a single season, a feat that was once good enough for sixth in Division III.
Nelson still holds the ODAC record for interceptions in a game with four, which he accomplished against Ferrum in 1996. Nelson was a two-time All-ODAC and VaSID All-State pick and was named Second-Team All-America in 1996.
Following his athletic career for the Wasps, Nelson worked at Emory & Henry from 1998 to 2006. He served as the softball coach, intramural director, area coordinator, and strength and conditioning coordinator. Nelson is now a teacher and assistant football coach at Murphy High School in Murphy, N.C.
Dr. Margaret Hutson
Dr. Margaret Hutson coached the E&H volleyball team for 16 years, from 1977 to 1992. She guided the Wasps to 13 winning seasons, including eight straight with 20 or more victories. Three times E&H volleyball teams reached the championship match of the ODAC tournament under her tutelage. She was also the head women's basketball coach at the University of Tennessee for two years (she directly preceded legendary coach Pat Summit).
Her real legacy is in the development of an Athletic Training Education Program (ATEP) at Emory & Henry. As a professor in the physical education department, which she served as chair for 11 years, Dr. Hutson founded Emory & Henry's Athletic Training Education Program. The ATEP is certified by the National Athletic Trainers Association, one of seven of such programs in the country, and is one of the College's most rigorous and popular majors.
In 2001 Dr. Hutson was the recipient of the United Methodist Exemplary Teaching Award and, in 2006, she received Emory & Henry's Fanelli Award in support of women's athletics. She is now retired and lives in Emory.