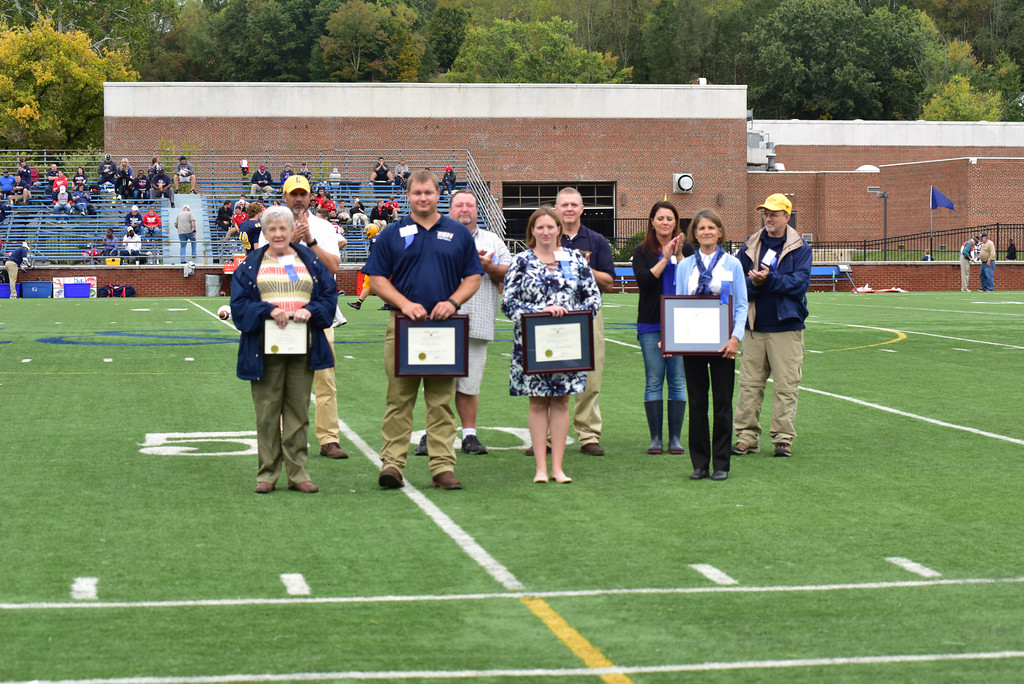 Emory & Henry Inducts Four Into 2016 Class
The Department of Athletics and the Alumni Office held a ceremony prior to the E&H football game with Shenandoah University on October 8th to induct the 2016 induction class into the Emory & Henry Sports Hall of Fame.  A group of four individuals received the College's highest athletic honor while a fifth received a Certificate of Appreciation for years of service and support.
The 2016 Hall of Fame class consisted of: Michael Hughes '01 and Scott Pruner '94 from football, Sarah Caldwell Wellenhoffer '04 of softball and former Head Women's Basketball Coach Joy Scruggs.
Scruggs spent 28 years as the coach of the E&H Women's Basketball Team from 1981-09. Her teams won 384 games and had 11 seasons of 15 or more wins and the 1987-88 squad won the ODAC Championship.
Hughes was a two-time All-American and led the Wasps to a trio of ODAC Championships (1996-98). A three-time All-ODAC and All-State player, he was touted by a teammate as "the best offensive linemen I ever played with."
Pruner was named an All-American in the 1992 season, leading the Wasps to an ODAC Championship and the NCAA Division III Quarterfinals that year. He finished his career with 36 sacks, which still ranks as second in program history.
Wellenhoffer led the E&H softball team to the 2003 ODAC Championship and the NCAA Division III Tournament. She was First Team All-ODAC and Scholar-Athlete of the Year in 2004 and still holds five school records including most career and season wins, most career innings pitched and most complete games.
This year's Certificate of Appreciation recipient was Ann Thomas, who retired from the Emory & Henry housekeeping staff in May 2016. She worked tirelessly for 14 years as a housekeeper in the King Center doing floors, doors, laundry, and you name it. She received the Fanelli Award in 2008 "for her shining example" and was a multiple winner of the Blue & Gold Award given by the E&H Staff Affairs Council.